BYD Company Limited (OTCPK: BYDDF), China's largest electric vehicle manufacturer and second-largest battery manufacturer, remains on track to become an integrated supplier of the electric vehicle value chain in the coming years. Not only does it benefit from an immense price power in its core electric vehicle manufacturing business (as evidenced by recent price hikes), but opening up its in-house electric powertrain components to external customers should also catalyze a significant uptick in its growth trajectory.
While the inflationary backdrop will be a challenge in the coming year, BYD's technology leadership across the value chain and its strong pipeline (both new vehicle launches and batteries with external car manufacturers) should allow it to emerge unscathed. With the forward EBITDA multiple also reduced to ~18x after the YTD China sale despite projected 40-50% YoY revenue growth and a potential semiconductor slate on the way, I think BYD could lead a rally in high-beta electric vehicle stocks later in the year.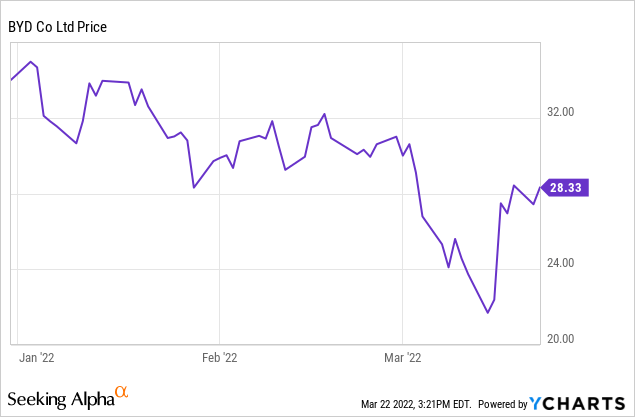 Latest Round of Price Hikes Demonstrate BYD's Pricing Power
According to Reuters, BYD launched a new round of retail price increases of Rmb 3-6,000 per vehicle starting March 16. This is the second hike of the year (the first round was implemented in February), and after the hike, BYD's lineup will have seen a combined average increase of 6% year-to-date. . Much of the increase will be in BYD's fully electric (BEV) models at +6-10% year-to-date, while prices for plug-in hybrid (PHEV) models will rise around 3% for the first time. 'year.
The market reacted negatively to the news, probably anticipating lower volumes, but I think the impact on end demand may be muted. With rising oil prices this year, the average annual cost of running gasoline for ICE cars in China has likely increased significantly, and with the cost of owning ICE likely much less favorable to electric vehicles right now, I suspect BYD's undelivered backlogs will hold up for the foreseeable future. Additionally, the price increases are also expected to help address any pressure on margins due to battery raw material price inflation and the phasing out of government subsidies of approximately 5.4kRMB/vehicle for the BEVs.
The latest monthly sales data validates BYD's pricing power, in my view – not only did BYD see further year-over-year growth, but the magnitude of BYD's +753% year-over-year outperformance at 88.3,000 EV units was a major plus. Aggregating January/February 2022 data, 2M22 EV sales would still have been strong at +494% YoY to 181,500 units, with PHEV sales leading the way YoY. Given the inelasticity of demand exemplified by February's price increases, BYD's wholesale data is expected to continue to show positive year-on-year growth on track to its sales volume target of 1. 5 m for 2022 (0.6 m BEV and 0.9 m PHEV). Additionally, strong momentum in BEV products such as the "Han" and "Dolphin" sedans is expected to boost the unit backlog and accelerate BYD's trajectory towards its 20-30% market share target.
| | | | |
| --- | --- | --- | --- |
| | Unit volume (February 2022) | Unit volume (February 2021) | Annual change |
| VE | 88,283 | 10,355 | 753% |
| -BEV | 43 173 | 7,835 | 451% |
| – PHEV | 44,300 | 2,288 | 1,836% |
| – RESUME | 810 | 232 | 249% |
Source: BYD Monthly Sales Release
Launched Han DM-i to accelerate scale to >1 million unit sales
The Han franchise, BYD's premium automotive product, added its third model, the Han DM-i earlier this month. This launch is significant not only because it adds DM-i, BYD's best-selling powertrain technology, to the premium lineup, but also because previous additions to the Qin/Song/Tang lineup have resulted in a significant increase in sales volume. The Qin DM-i franchise, for example, has already outperformed its hybrid cousin, the Qin Pro PHEV, by 3-4x at >9 billion RMB in revenue in 2021 (vs. 2.6 billion RMB for the PHEV). Assuming that Han DM-i enjoys a similar volume increase in the coming months, the growth should also prove to be accretive – the model is priced Rmb 220,000 higher per unit (compared to the average from BYD of around RMB 150,000 per vehicle price), so the launch is expected to accelerate earnings growth from the outset.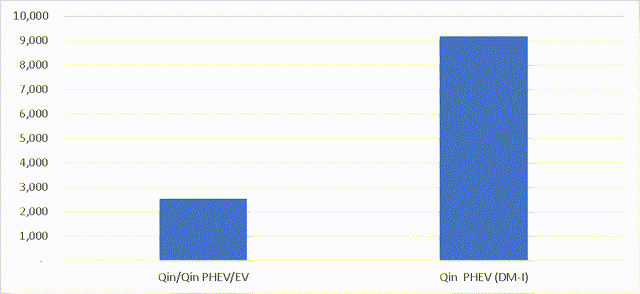 This bodes well for BYD's 2022 targets – after 320.6,000 vehicle sales in 2021, the ramp-up of a dedicated DM-i PHEV platform to a monthly production capacity of 60-80,000 should accelerate the trajectory towards 1.5 million cumulative unit sales. That would be an impressive feat given that BYD would be only the second electric vehicle maker in the world (after Tesla (TSLA)) to reach this milestone, but seems entirely achievable, especially with the addition of new models to the platforms. -DM-i forms. In the short term, the delivery of DM-i versions of the Qin PLUS, Song PLUS and Tang should support the order book, while in the long term the launch of new BEV models to compete with Tesla's Model 3 and Model Y should see BYD far exceed its 2022 targets.
Ramp-up of the external battery supply business
After capturing a significant share of the battery installation market in China last year, BYD is focused on boosting its battery production, guiding towards 90-100 GWh in 2022. This includes 60 GWh for its automotive business and 10 GWh for its ESS (energy storage system), with the remaining capacity dedicated to a carmaker's European power plant (~20 GWh), as well as several GWh for other carmakers.
There is ample room for the battery supply business to grow further – cooperation with DiDi Chuxing (DIDI) and several other developing manufacturers should drive its power bank shipments well beyond current capacity of about 44 GWh. Over the long term, the company has a clear advantage with its differentiated 'blade' technology, and building on the success of its Han and DM-i models, BYD is well positioned to develop a battery supplier business. level 1 independent.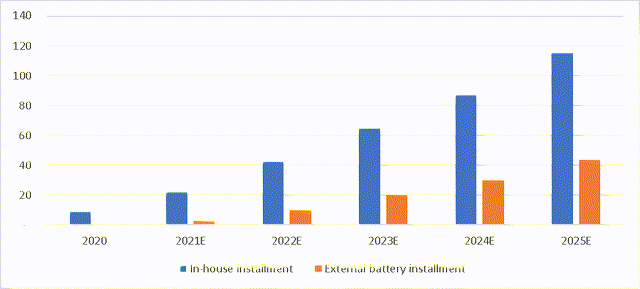 The recent BYD and FAW Group joint venture for battery production and distribution indicates an exciting new approach to expansion – it allows the two companies to integrate powertrain production and design, while the additional scale should help mitigate the headwinds related to the supply of raw materials. Since FAW is a major domestic player (the company sold approximately 2.7 million passenger vehicles in 2021) as a partner of Toyota (TM) and Volkswagen (OTCPK:VWAGY) in China, this partnership represents a step key in BYD's transition to becoming an integrated service provider across the entire electric vehicle value chain. As BYD's battery offering continues to gain momentum, there is an obvious upside option here, as additional sales growth from increased global share and scale expansion could also lead to a more attractive margin profile over time.
Strengthening competitiveness across the entire electric vehicle value chain
Recent developments at BYD reinforce my view that the company will continue to go from strength to strength as it transitions into an integrated electric vehicle manufacturer/mobility solutions provider supplying battery parts to the entire industry. Still, the market remains conservative (by EV standards) on BYD shares amid concerns about inflationary pressures and the rate of EV penetration as subsidies are phased out. Given BYD's competitiveness as a manufacturer of electric vehicles and batteries as well as its strong product portfolio, however, I think BYD deserves its valuation premium. With BYD still on track to grow 40-50% YoY this year and potentially benefiting from revaluation catalysts such as a semiconductor business listing and more battery joint ventures, the stock should rise as long as management continues to execute its plan.